Hoisin Sauce

,

Koon Chun

, 15.0 fl oz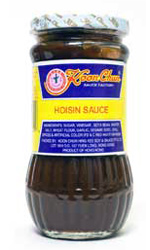 Hoisin Sauce is a thick, dark brown sauce made of a blend of fermented soybeans, sugar, vinegar, garlic, and chiles. Originating in China it is mainly used as a sauce for barbecue meats such as spareribs and as a dipping sauce, especially for Peking Duck and Moo Shu Pork. In Vietnam it is a favored condiment for dipping fresh Spring Rolls, often topped with freshly ground peanuts.
According to Cook's Illustrated magazine, not all Hoisin Sauces are alike, varying in consistency, color and texture. Their tasters were able to recommend this brand, noting its taste as being somewhat fruity (Source: March 2007, Cook's Illustrated).
Also see Hoisin Sauce, Lee Kum Kee brand.
Availability: Ships in 2-3 business days from Los Angeles, California.
Category: Sauces & Vinegar
SKU: 5166000453