Tai Pla Sauce

,

AC

, 8.0 oz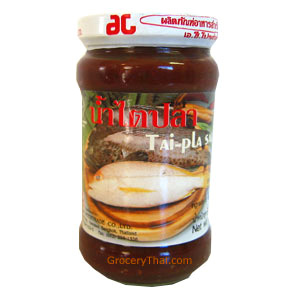 Tai Plah is used to make the famous super spicy Southern Thai curry dish, Gaeng Tai Plah. Tai Plah is made up of the fermented belly and intestines of small ocean fishes (usually pla thoo, pla sai or pla hed khon). The innards are marinated with sea salt, bottled and then set out in the sun to ferment for two to three days.
To prepare Tai Plah Curry the tai plah is boiled in water (not coconut milk) with seasonings including small hot chilies (prik kee noo), lemongrass, kaffir lime peel, fresh turmeric and galangal. The meat from the dried fish is added and the curry is simmered until the consistency thickens slightly. In Nakhon Si Thammarat, considered to be the home of this dish, vegetables are not added and the dish is very very spicy. Cooks in other Thai provinces usually add eggplant, bamboo shoots and long beans making it a little easier to eat for the uninitiated.
Ingredients: Tai pla and salt. Product of Thailand.
Availability: Ships in 2-3 business days from Los Angeles, California.
Category: Sauces & Vinegar
SKU: 5160000439