Dried Kaffir Lime Leaf

,

Temple of Thai

, 1 oz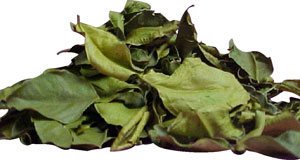 Dried Kaffir Lime Leaf is a good substitute when fresh is not available. Use in soups or pre-soak to soften and reduce to a paste in a mortar and pestle or small electric grinder. Store in a cool, dried place tightly sealed for up to one year.
Note: When ordering a large quantity of Dried Kaffir Lime Leaves (more then a few ounces), please allow a week or more for shipping. When we receive your order, we order fresh leaves from our grower and then allow the leaves to air dry, which takes a week or more. We don't dry in oven or use other means to speed the drying, because the leaf color changes to brown and does not look very nice. We do not keep large amounts of kaffir lime leaf in stock because the leaves change color if kept too long. We feel that our dried kaffir lime leaves look much more green, unlike what is usually sold in plastic bags in local Asian markets.

Also see Fresh Kaffir Lime Leaf.
Ingredients: Kaffir lime leaf. Product of Thailand.
Availability: Ships in 2-3 business days from Los Angeles, California.
Category: Spices
SKU: 3181000191