Sea Salt (Fine)

,

Caravelle

, 2.1 lbs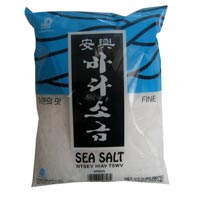 Sea Salt (Fine) for cooking Thai food or any type of cuisine. Sea salt (
gluea
in Thai) is preferred for Thai cooking over other types of salt. It is natural and untempered and rich in minerals. Try using sea salt as a vegetarian substitute for fish sauce. The taste is far superior to ordinary table salt.
Used as a preservative and for flavoring, salt was a treasured commodity until the nineteenth century when it became more plentiful. The English word 'salary' is derived from the Latin 'sal'. Salt is either mined or evaporated from the sea or salt marshes.
Store tightly sealed in a cool, dry place up indefinately. The type of salt here, is fine sea salt imported from Korea.
Also see Coarse Sea Salt.
Availability: Ships in 2-3 business days from Los Angeles, California.
Category: Spices
SKU: 1300000351