Bamboo Steamer

,

Product of China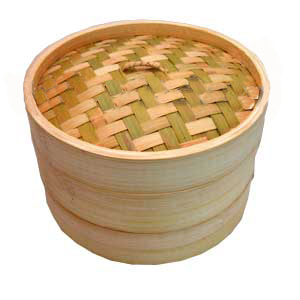 A Bamboo Steamer (rang theung in Thai) is used for steaming in a wok and extends the utility of your wok (it is best to have a seperate wok for steaming so as not to remove the black patina of long use). The tiered steamer is set over rapidly boiling water and the lattice work bottom of the tiers allow steam to circulate throughout the two layers. The double layer allows for more then one dish to be steamed at time, saving time and fuel. Food can be placed either directly on the bamboo tray, as for dim sum or on a heat-proof plate set inside of the steamer tray, such as for steaming fish or vegetables. Use this steamer for steaming Chinese buns, wontons, vegetables and fish. Steaming can also be a healthy way to warm up leftovers (instead of the microwave).
Before steaming line the bottom of the trays with banana leaf, baking parchment, cheesecloth or cabbage leaves for easier clean up. Be sure to add just enough water to reach below the steamer tray. For longer periods of steaming add more boiling water as needed. Arrange food evenly in the tray with space in between the pieces, placing foods that need more cooking time on the bottom layer, closer to the heat. Be careful when removing the lid, using the lid as a shield to protect yourself from the hot steam.
To clean the steamer, soak in warm water removing any food particles with a brush, do not use detergents as they may seep into the natural bamboo fibers. Drip dry and store in a dry place. Check for mold before using and if needed soak in a solution of baking soda and warm water.
Please note that this Bamboo Steamer is not suitable for steaming sticky rice because the slots are too wide and the rice would fall through. Instead use the Thai Sticky Rice Steamer.
Dimensions: 8" width, 5" in height, each stack is 1 1/4" in height. Product of China.
See Thai recipes for steaming: Haw Moek
Chinese Sausage Wrapped in Bamboo Leaves
Steamed parcels of Chinese sausage with sticky rice, dried Chinese mushrooms and dried shrimp.
250g Chinese Sausage, cut into bite-sized slices
3 tbsp peanut oil
1 tbsp freshly grated ginger
4 cloves of garlic, crushed and finely chopped
4 shallots (or 1 small red onion), finely chopped
5 dried Chinese Mushrooms, soaked in hot water for 20 minutes, discard stems and finely chop caps
40g Dried Shrimp, soaked in hot water for 20 minutes
50g cashew nuts, toasted
4 tbsp Light Soy Sauce
1 tbsp Sesame Oil
2 pinches Chinese five-spice powder
12 dried Bamboo Leaves, (or dried Lotus Leaves), soaked in cold water then blanched in boiling water
6 x 30 cm lengths string, to wrap around the bamboo parcels
Heat a wok over a high heat, add the sausage and fry for about 1 minute. Remove and set aside.
Heat the peanut oil in the wok and stir fry the ginger, garlic, shallots and soaked mushrooms for less than 1 minute. Add the dried shrimp and cashew nuts and stir fry for less than 1 minute. Add the cooked sticky rice and sausage and mix all the ingredients well. Season with light soy sauce, sesame oil and five spice powder and give a final stir. Remove form the heat and set aside.
Select two bamboo leaves, one small and one large. Place the smaller leaf on the larger one with the pointed end of the leaves at opposite ends. Fold the leaves in half, cup them in your hand and fold one edge of the leaves down so that they form a conical shape in your palm. With the leaves pointing towards you, wet your hands and scoop some of the rice mixture into the cup. Wrap the other end of the leaves around the opening to form a closed pyramid. Take a piece of string, loop it around the triangular corner of the wrapped rice and wrap around the bamboo parcel twice, tying it to secure. Repeat this to make 6 parcels.
For best flavor, place the rice parcels in a bamboo steamer and fill a wok or pan with boiling water to a depth that will not immerse the base of the steamer and steam for 2-3 minutes. Alternatively, place in a pan of boiling water for 4 minutes.
Serve with soy sauce, Sweet Chilli Jam or Chilli Paste in Soybean Oil (Nam Prik Pao).
Servings: 6
Level of difficulty: Intermediate
Preparation Time: 30 minutes
Cooking Time: 5 minutes
by Ching He-Huang from Great Food Live
Availability: Ships in 2-3 business days from Los Angeles, California.
Category: Steamers & Rice Cookers
SKU: 6240000356