Thai Hot Pot Soup Bowl

,

Crocodile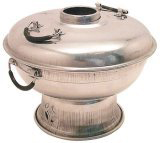 Thai soups are not only easy to make, but also very healthy. The ingredients are fairly few in most soup recipes and preparations steps are minimal. Cooking time is short, unlike soup recipes from other parts of the globe. With shorter cooking times, vitamins are retained and preparation time is reduced, freeing up the busy chef.The inclusion of fresh herbs like lemongrass, galangal and fresh hot chilies give many health benefits such as aiding the digestion.
Soup is an important part of Thai cuisine and is served almost daily with the rest of the meal (not as a first course) and sipped between bites of other dishes. At a family-style meal, everyone shares from the serving bowl by spooning some of the soup into his own spoon. In the restaurants of Thailand, soup will most often come in a soup tureen, such as this Thai Hot Pot Soup Bowl. Charcoal, a candle or can of Sterno keeps the soup piping hot. The hot soup is spooned into small soup bowls for each diner.
Tom Yum Soup is the most popular soup in Thailand and is best enjoyed served in this heated soup serving bowl. See our Fresh Tom Yum Soup Set.
Holds 4 cups of hot soup. Don't save it just for your Thai dinner parties, beautiful for serving any type of clear soup!
Read more about Thai soups.
Diameter: 8.5 inches. Holds 4 cups of soup. Material: Aluminum. Made in Thailand.
Availability: Ships in 2-3 business days from Los Angeles, California.
Category: Pok Pok Cookware, Serving Bowls & Baskets, Grills, Hot Pots & Platters
SKU: 6210000151
Andy Ricker recommends these other great tools and cookware:
At the Least:
A Step Beyond:
For A Complete Pok Pok Kitchen: