Shredded Squid Snack

,

Product of Taiwan

, 2.0 oz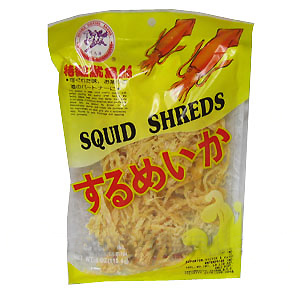 Dried Shredded Squid is a very popular snack in Thailand and throughout Asia. Dried squid is processed and machine shredded into fine lightweight chewy shreds and is flavored with sugar and sometimes spices.
Kids especially love to eat this snack which is now widely available at convenience stores and you will often see Thai school children consuming it after school, with the shreds poking out of their mouths like hay. This salty snack is often served as bar food in Japan, Taiwan, Hong Kong and Korea, inducing the customer to drink more beer and whiskey.
Sweetened seafood snacks may seem exotic to Westerners but this type of preparation for dehydrated fish products is very old in Asia and not just for snack foods. Modern packaged Dried Shredded Squid Snack goes through many more processes then the more traditional types of Dried Sweetened Fish, which are still being produced throughout Asia by fisherman families and exporters.
Also see Baked Cuttlefish and Dried Squid.
Ingredients: Squid, sugar, salt and msg. Product of Taiwan.
Availability: Ships in 2-3 business days from Los Angeles, California.
Category: Asian Snacks
SKU: 3230000443