Green Tea Tapioca Pearl

,

Product of China

, 8.80 oz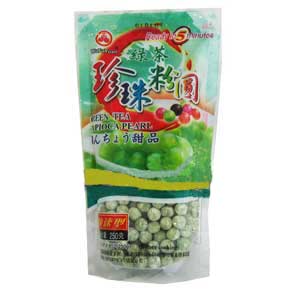 Green Tea Tapioca Pearl is well combination of green tea flavor and chewy pearl which can be added in any kind of tea or other drink as preference.
To cook tapioca pearl, boil 10 cups of water with 1 cup of tapioca pearl, wait until the pearl turns soft and plump, lower the heat to medium level. Then cover the pot for 5 minutes before serving with syrup with your drink. Good for afternoon party or drinking with family.
Also see Black Tapioca Pearl, Bubble Tea Tapioca Pearl and Thai Tea.
Ingredients: Tapioca starch, green Tea powder, SDA, water, artificial colors and DHA. Product of China.
Availability: Ships in 2-3 business days from Los Angeles, California.
Category: Beverages
SKU: 1200000550