Masaman Curry Paste (6pkg)

,

Mae Ploy

, 6x14 oz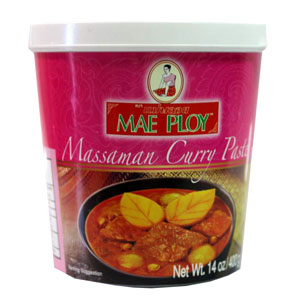 Masaman Curry Paste is an exotic Indian-influenced coconut milk based curry. Redolent with dried spices, cook this paste with beef, chicken or tempeh for a delicious quick meal. Serve with steamed jasmine rice.
Also see Masaman Curry Paste from other brands: Mae Anong, Nittaya and Lobo.
Ingredients: Dried red chili, lemon grass, garlic, shallot, salt, galanga, shrimp paste, coriander seed, cumin, kaffir lime peel, mace, cardamom and cinnamon. Product of Thailand.
Availability: Ships in 2-3 business days from Los Angeles, California.
Category: Curry Paste, Wholesale
SKU: 2150000826