Red Curry Paste

,

Mae Anong

, 16 oz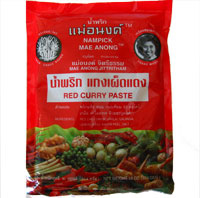 Red Curry Paste is one of the most common curry pastes in Thai cooking (the other being
Green Curry Paste
). Red Curry Paste is the basis of not only well known coconut milk based Red Curry dishes, but also it can be dry stir-fried for spicy Pad Phet dishes and blended into
Haw Moek
, a type of fish curried mousse. Other popular dishes include
Gaeng Phet Pet Yang
,
Roast Duck Curry
, once an exclusive dish of the Royal family it is now a favorite restaurant dish and
Gaeng Phet Gy Naw My
, a working class recipe for
Red Curry with Chicken & Bamboo Shoots
.
Ingredients: Red chilli, onion, garlic, galanga, lemongrass, kaffir peel, shrimp paste and salt. Product of Thailand.
Availability: Ships in 2-3 business days from Los Angeles, California.
Category: Curry Paste
SKU: 2110150272