Purple Sago Pearl

,

Product of China

, 8.8 oz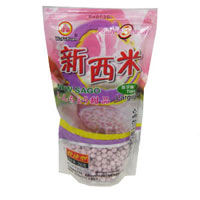 Purple Sago Pearl is suitable for making Thai dessert. Mix with other desserts like grass jelly, water chestnut with tapioca (tub tim krob), boiled taro, young coconut or attap fruit. Mix well with coconut milk and syrup and serve with crushed ice on top. This dessert can be eaten with or without crushed ice as your preference. The favorite Thai sago dessert is sago topping with egg boiled in syrup called bua loi kai wan.
Also see Small Pearl Tapioca, Large Pearl Tapioca, and Tapioca Flour.
Ingredients: Tapioga starch, Acetylated Starch, CMC, SDA, water, arificial color: Purple, flavour and DHA. Product of China
Availability: Ships in 2-3 business days from Los Angeles, California.
Category: Flour & Sugar
SKU: 1200000500