Bitter Melon

,

Product of USA

, 1 lbs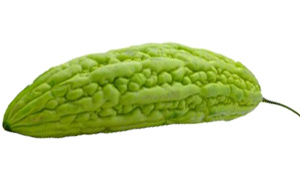 PLEASE READ PERISHABLE
TERMS OF SHIPPING
BEFORE ORDERING.
Bitter Melon (Momordica charantia, mah rah in Thai, foo gwa in Chinese) is also known as bitter gourd or balsam pear and is part of the cuisine of Okinawa, Japan (but not mainland Japan); Africa, the Caribbean and South America. In Thailand, the favored variety is a long pale green vegetable, about the size of a cucumber, with a shiny pebbly skin. It grows on a climbing vine and is often planted in between crops of jasmine rice in the drained rice patties of Thailand. A native of the tropics, its cool and bitter taste is said to be due to the presence of quinine, but this is not an established fact.
Bitter melon is said to work powerfully to detoxify the blood and colon and is especially beneficial for treatment of diseases of the liver, spleen and pancreas. High in Vitamin A and C, bitter melon aids digestion and is reputed to be of benefit for those with poor eyesight. It has been shown to increase insulin production and to have anti-carcinogen properties. (Source: p.84, A Thai Herbal, by C. Pierce Salguero, © 2003 Silkworm Books, Thailand)
To prepare bitter melon, peel away only damaged or dark skin but leave most of the skin intact and scoop out and discard the seeds. As it is very bitter, a preparation which adds salt makes a delicious balanced dish. Slice thinly crosswise and stir-fry with Golden Mountain soy sauce and fish sauce, a splash of water and a teaspoon of sugar if desired. Or steam lightly just until cooked and serve with a spicy chili sauce. The most typical preparation in Thailand is Bitter Melon Stuffed with Pork Soup in which mah-rah is stuffed with seasoned ground pork and cooked in broth.
PLEASE READ PERISHABLE
TERMS OF SHIPPING
BEFORE ORDERING.
Ingredients: Bitter melon. Weight approximately 1 lb. Product of USA.
Availability: Ships in 2-3 business days from Los Angeles, California.
Category: Fresh Produce
SKU: 8700000442