Dried Seaweed

,

Product of China

, 1.4 oz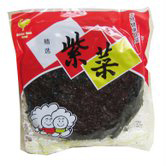 Seaweed is an ancient food stuff appreciated throughout Asia. This type of seaweed (sarai bai in Thai) is a type of kelp (like Japanese kombu), which is leafy and dark green after soaking. On its own, it is very mild in flavor, but it adds texture, color and numerous health benefits to a dish. The browner varieties have a stronger flavor.
This type of seaweed can be an addition to Asian seafood and pork soups, salads, rice dishes, dumplings and stir-fried vegetables. In Thailand seaweed is mainly consumed by sea-dwellers and those of Chinese descent. Thais enjoy eating seaweed fresh from the sea, served like a crispy vegetable with nam prik kapi.
According to The Great American Detox Diet by Alex Jamieson, "Sea vegetables are the most nutrient-dense foods on the planet, so eat up!". Seaweed draws an extraordinary wealth of mineral elements from the sea, growing near coral. The mineral macronutrients include sodium, calcium, magnesium, potassium, chlorine, sulfur and phosphorus; the micronutrients include iodine, iron, zinc, copper, selenium, molybdenum, fluoride, manganese, boron, nickel and cobalt. Seaweed has such a large proportion of iodine compared to dietary minimum requirements, that it is primarily known as a source of this nutrient. Seaweed is low in cholesterol and is a good source of vitamin B5, which is beneficial for reducing cholesterol.
Store in a cool dry place indefinately. Rinse well before adding to your dishes.
Korean Seaweed Soup
1 package dried seaweed
1/4 lb lean beef, thinly sliced
3 cloves garlic, finely chopped
1 tsp sesame salt (see recipe below)
3 tblsp soy sauce
2 tsp sesame oil
1/2 tsp black pepper
1/2 tsp sea salt
Wash and soak the seaweed in water for one hour. Drain and cut into 2" pieces.
Cook the beef in a pan with the garlic, sesame salt, soy sauce, sesame oil and pepper. Cook until the meat is brown.
Add the seaweed and 6 cups of water, and simmer for 30 minutes, or until the seaweed is tender.
Add sea salt, check seasoning and bring back to a boil. Serve hot.
Note: Sesame salt: heat white sesame seeds gently in a heavy pan until they turn golden brown and swell slightly. Pulverize in a mortar and pestle with one teaspoon of sea salt per cup of sesame seeds.
Recipe adapted from Lee Wade's Korean Cookery, Hollym Publishers.
Ingredients: Natural dried seaweed (laver). Product of China.
Availability: Ships in 2-3 business days from Los Angeles, California.
Category: Pickled & Preserved
SKU: 3400000302