Soup Tom Yum, Thai Hot & Sour Soup with Fish (Tom Yum Pla)
Tom Yum Fish with Roasted Chilies and Thai Herbs Soup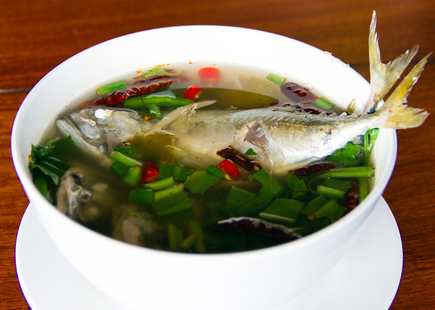 Tom Yum - Hot and Sour Thai Soup
For many, Tom Yum is the best Thai soup of all. Here in this less typical version of the dish, fresh fish is simmered in a stock flavored with lemongrass, kaffir lime leaves, sea salt, tamarind and roasted red chilies. Note it is best to serve any type of Tom Yum soup hot, to enjoy its fresh herbal and citrus flavors at their peak.
Ingredients
Preparation
Preliminaries: Clean and gut the fish (do not cut off the head and tail) and cut in half (we used 2 trout, about half pound each). Trim lemongrass, cutting away loose outer leaves and root end. Cut at an angle into 2 1/2 inch pieces. Set aside. Dry roast the chili peppers in a dry wok or shallow heavy skillet, stirring frequently until just slightly charred. Remove from the heat, allow to cool. Pulverize half in a mortar and pestle or electric coffee grinder. Cut the remaining whole chili peppers into bite-sized pieces and set aside.
Heat cooking oil in a skillet or wok until hot (just before it begins to smoke), place the fish into the hot oil and sear for 1-2 minutes on each side. Remove from the pan and set aside.
Bring water to boil in medium-sized pan. Bruise the lemongrass and galangal slices with the side of a cleaver. Add to the boiling water along with the torn kaffir lime leaves. Add sea salt and tamarind pulp. Reduce heat and simmer the stock for 5-6 minutes.
Sprinkle ground red chili peppers on both sides of the partially cooked fish pieces. Add the fish to the stock and return to a boil. Reduce the heat to low and simmer for 2-3 minutes.
Adjust taste by adding fish sauce and lime juice if desired. Add chili pepper pieces and simmer further if necessary until the fish is cooked through. Turn off the heat and serve in a bowl, garnish with cilantro leaves.
Serves 4.
Tamarind Water or Concentrate
Soak the tamarind paste in water for about 5 minutes. Squeeze the fiber with your fingers to extract as much juice as possible. Strain and discard fibers. Or alternatively just add the tamarind paste directly to the dish being prepared, though the degree of sourness may vary doing it this way.
Recipe Copyright © 2013 TempleofThai.com; Image © Operation Shooting, used under licensing from Shutterstock.com; this recipe inspired by Hot and Sour, Pan-Fried Trout Soup with Roasted Chillies and Aromatic Herbs, pp. 100-101, Dancing Shrimp, by Kasma Loha-Unchit