Rice Noodle with Coconut Soup Recipe (Kway Teow Tom Kha Gai)
Pum's Coconut Milk & Chicken Rice Noodle Soup
This version of rice noodle soup comes from the Wok The World cookbook, by Thai chef and cooking instructor Pum. Inspired by her travels in Sri Lanka and Southeast Asia, this simple coconut milk and chicken based soup is flavored with lemongrass, galangal and kaffir limes leaves and served over Asian rice noodles to create a tasty and healthy soup in just minutes.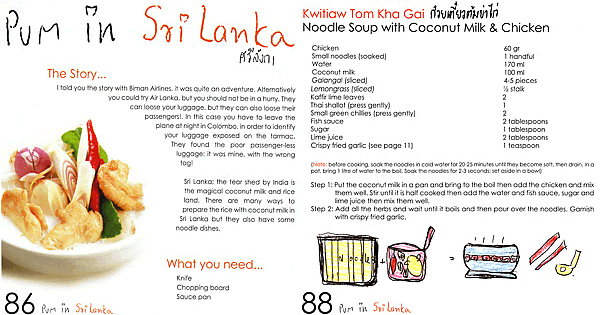 Pum is also the author of Lazy Thai Cuisine which is available for purchase in our online Asian grocery.
Ingredients
Preparation
Put the coconut milk in a pan and bring to the boil then add the chicken and mix them well. Stir until it is half cooked then add the water and fish sauce, sugar and lime juice then mix them well.
Add all the herbs and wait until it boils and then pour over the noodles. Garnish with crispy fried garlic and serve.
Serves 1.
*Note: Before cooking, soak the rice noodles in cold water for 20-25 minutes until they become soft, then drain. In a pot, bring 1 liter of water to the boil. Dunk the noodles for 2-3 seconds in the boiling water; set aside in a bowl.

Pum's Wok The World
Recipe Source: Pum's Wok The World, Asia by Yardfon Pum Borranapim. Follow him on twitter @PumThaiFood
This title is available in our Thai cookbooks section.
Recipe Copyright © 2008 Yardfon (Pum) Borranapim