Instant Tom Yum Paste (Hot and Sour Soup)

,

Por Kwan

, 6x8 oz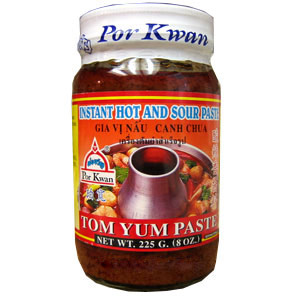 Instant Tom Yum Paste (Thai Hot and Sour Soup) from Por Kwan brand Thailand, is ready to add to your favorite Tom Yum recipe. Add shrimp, chicken or seafood for a nearly instant Thai soup. This paste can also be added to Tom Yum noodle soup, which is an especially popular dish in Singapore and Malaysia. Tom Yum Paste can also become a base flavor for other soups and dishes, like Tom Yum Fried Rice to Tom Yum Mama Noodles.
To make Tom Yum Soup, add two tablespoons Tom Yum Paste to three cups of boiling water. Add shrimp, chicken, tofu or seafood for the type of Tom Yum desired. Garnish with fresh kaffir lime leaf to complete.
Buy in bulk and save. Also see Tom Yum Paste, Por Kwan, by the jar; Lobo Tom Yum Paste; Vegetarian Tom Yum Paste; Tom Yum One Click Cooking Kit; and Mama Tom Yum Flavor Instant Noodles
Ingredients: Chili, galanga, lemongrass, onion, soy bean oil, salt, sugar, lime juice, garlic, MSG, kaffir lime leaves, Shrimp Extract Flavor, Paprika and citric acid. No Preservative. This product contains Soy Bean, Shrimp. Product of Thailand.
Availability: Ships in 2-3 business days from Los Angeles, California.
Category: Chili Pastes
SKU: 5514000850