Tom Yum Paste (2pkg)

,

Lobo

, 1.06 oz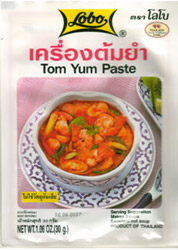 Tom Yum is the most famous of Thai soups, being very popular in Thai restaurants in the US. It is a clear sour and spicy soup flavored with lemon grass, chilies, and kaffir lime leaf. It's taste is a subtle blend of hot and sour with citrus overtones derived from lime juice and kaffir lime peel.
The most well-known version of Tom Yum includes shrimp, but you may also use firm white-flesh fish or chicken. If using shrimp, be careful not to overcook the shrimp as they will become tough very easily.
Tom Yum is both sour and spicy and can be prepared quickly with this paste. Simply boil water, add the paste and shrimp or other meat or tofu.
To make this Tom Yum Recipe from Lobo, for best flavor, you will also need from our store: Thai Bird's Eye Chili Peppers, and fresh lemongrass and kaffir lime leaf. You can also used canned Straw Mushrooms or fresh mushrooms. See the cooking video below to find out how easy it is to cook with Lobo brand convenient pastes. Also, the complete Thai recipe is included on the package.
Also see other delicious Lobo brand products: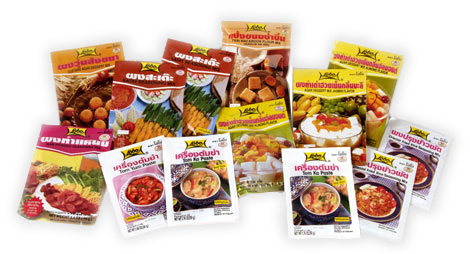 Ingredients: Salt, sugar, soybean oil, spices, lemon grass, MSG621, citric acid E330 (no colorings or preservatives added). Product of Thailand.
Availability: Ships in 2-3 business days from Los Angeles, California.
Category: Convenience Food
SKU: 3840361074