Fish Sauce

,

Shrimp

, 24 fl oz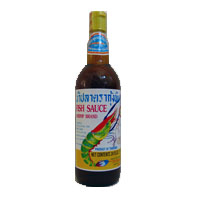 Fish Sauce is essential to several cuisines, especially Vietnam and Thailand. Traditionally fish sauce was made by packing very fresh small anchovy fish layered with sea salt into large barrels, which were then set in the sun for up to one year. The fish is naturally broken down by its own digestive enzymes and a clear salty liquid results which is then strained and bottled.
Fish Sauce, Shrimp brand is one of the high quality fish sauces of Thailand made by the famous Pantainorasingh company. This premium brand is less salty and smells less fishy than cheaper brands.
Use fish sauce in Thai cooking to add depth and flavor. Fish sauce is an integral ingredient of the Thai kitchen.
See more brands of Thai Fish Sauce:
Ingredients: Anchovy, water, salt and sugar. Product of Thailand.
Availability: Ships in 2-3 business days from Los Angeles, California.
Category: Fish Sauce
SKU: 5110000333