Fish Sauce (2x1.01 oz)

,

Squid

, 2.02 fl oz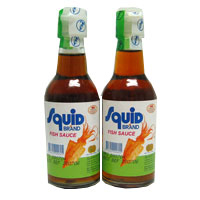 Squid brand fish sauce in two sample-size 1.01 fluid ounce bottles perfect for trying real Thai fish sauce without buying a large bottle.
Fish sauce is to Southeast Asia what salt is to the West and soy sauce is to China. Fish sauce is an essential condiment for Asian cooking, especially Thai and Vietnamese. Today, fish sauce has gained in popularity worldwide.
Use fish sauce in soups (see recipe for Tom Yum Kung below), dipping sauces, curry dishes, fried dishes, marinades and salads.
High quality fish sauce, like Squid brand, should have a reddish-brown color with a natural taste and smell. Squid brands smoky and pungent flavor is preferred by many Thai cooks for the depth and complexity it adds. See Cock brand Fish Sauce for a similar taste and small sized bottle.
Store up to two years out of direct sunlight at room temperature. Refrigeration is not recommended. These two small 1.01ounce bottles are great for those who are unfamiliar with fish sauce.
See more brands of Thai Fish Sauce:
Tom Yum Kung (Thai Hot and Sour Soup with Shrimp)
Seasoning:

2 tblsp fish sauce, Squid brand
2 tblsp lime juice
Bring the stock to boil, add the shrimp.
Add the mushrooms, lemongrass, galangala and kaffir lime leaves, boil for 5 minutes. Add seasonings and chilies.
Garnish with cilantro and serve.
Note: Recipe copyright Squid Brand (Thai Fish Sauce Factory Co Ltd).
Ingredients: Water, anchovy extract, salt and sugar. Product of Thailand.
Availability: Ships in 2-3 business days from Los Angeles, California.
Category: Fish Sauce, Pok Pok Ingredients
SKU: 5110372177