Rice Noodles Stick XL, 30 x 13.20 oz.

,

Imported from Thailand

, 30 lbs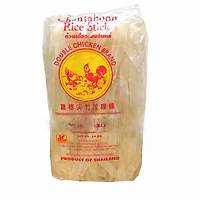 Use these noodles for preparing Pad Thai, noodle soup and Pad See-ew (Rice Noodles Stir-Fried with Black Soy Sauce, see recipe below).
To prepare, soak in room temperature water to soften for 20 to 40 minutes. Rice noodles should be considered for inclusion in a gluten-free diet.
To store noodles keep in a cool dry place in an airtight container. Use all types of noodles within one year of purchase. Rice noodles should be a stock item in your pantry.
Also see other noodles: Rice Noodles Sen Lek, Rice Vermicelli, Rice Flake Noodles and Egg Noodles.
Ingredients: Rice flour and water. Product of Thailand.
Availability: Ships in 2-3 business days from Los Angeles, California.
Category: Noodles
SKU: 3510000805