Pandan Tea

,

AC

, 6.0 oz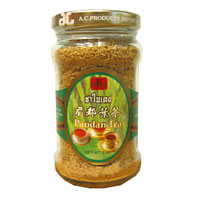 Pandan Tea made by extracting pandan leaves which easily grows in tropical area without any special treatment. Thai people extract the juice from pandan leaves and add to traditional desserts for good scent and color.
Because of its pleasent smell, it gives a good sense of relaxing and aroma feeling. Pandan tea is one of the popular drink for people who would like to relax with a cup of tea. Besides, pandan can help relieving fever and headache.
Also see Lemongrass Tea, Guava Leaf Tea, Frozen Pandanus Leaf, Pandanus (Bai Toey) Flavor, and Thai Custard Mix Pandan Flavor.
Ingredients: Pandan herbal extract juice and sugar. Product of Thailand.
Availability: Ships in 2-3 business days from Los Angeles, California.
Category: Beverages
SKU: 3100000495