Quail Eggs in Water

,

Product of Thailand

, 15 oz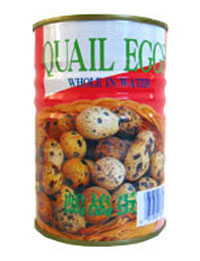 Quail eggs in water (kai nok kra in Thai) can be used as an ingredient in various Thai dishes and salad. Children especially love this petite-sized egg because of its small size which is easy to eat.
A favorite dish in Thailand, especially after school is raw quail eggs cooked in a khanom krok pan. This after-school (high in good cholesterol) snack is garnished with a sprinkle of Thai white pepper powder and Golden Mountain Seasoning Sauce.
Since canned quail eggs are already cooked, instead you can try adding to a Thai Beef Salad recipe or wrap whole in wonton wrappers, deep-fry and serve with Sweet Chili Sauce. Quail eggs can also be added to instant noodle soups, tom yum soup and curries for a surprise twist. Or put quail eggs inside steamed Chinese buns with Chinese sausage for a creamy, rich filling.
Note: Quail eggs should not be given to small children unless cut up or mashed.
Nutritional benefits: Surprisingly rich in vitamins and minerals, with three to four times that of the chicken egg, quail eggs are high in protein and have 140 % of the daily requirement of vitamin B1 compared to just 50 percent in chicken eggs. Richer in iron and potassium compared to the chicken egg, they are not known to cause allergic reactions. In fact quail eggs are actually beneficial in fighting allergy symptoms due to the ovomucoid protein.
Aiding the digestion, quail eggs are said to help strengthen the immune system, improve the memory and increase brain activity. Hemoglobin in the body is increased and toxins and heavy metals are removed by eating a diet which includes quail eggs. Chinese medicine uses quail eggs to treat asthma, tuberculosis and diabetes. Even kidney stones may be alleviated with the inclusion of quail eggs in the diet. (Source: http://www.ehow.com/list_6671158_benefits-quail-eggs_.html)
Ingredients: Quail eggs and water.
Availability: Ships in 2-3 business days from Los Angeles, California.
Category: Pickled & Preserved
SKU: 4800000497