Coconut Palm Sugar (Vietnam)

,

Thao Huong

, 1.1 lbs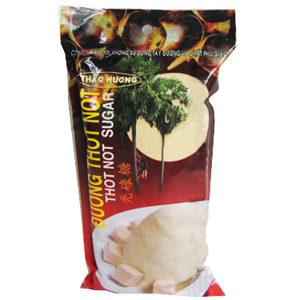 This Thao Huong brand pure Coconut Palm Sugar from Vietnam is a special type of sugar because it is comes already pulverized into a fine powder. Unlike common palm sugars, there is no need to crush or microwave the sugar to prepare for adding to recipes! This type of powdered palm sugar is ready to add to tea, curries or cakes.
Coconut Palm Sugar (nam tan bpeep in Thai, arenga spp, jaggery in India or thot not sugar in Vietnamese) is a coarse brown sugar with a distinct flavor and is less cloyingly sweet then cane sugar. The intense caramel-like flavor of coconut palm sugar is an integral part of the Thai taste profile and is best obtained by using palm sugar (not brown sugar or other substitutes).
Made from coconut palm nectar extracted from the palmyra palm, Thot Not Coconut Palm Sugar is high in macro and micro-nutrients. Thot not means palmyra palm in Vietnamese. The properties of the coconut palm (including coconuts themselves, of course) are now gaining wide popularity throughout the globe as healthy ingredients for cooking. Possessing a low glycemic index as well as being highly nutricious, cooking with coconut palm sugar can be an excellent and cost effective way of enjoying sweet food without encouraging diabetes.
Add to curries, stir-fries, dipping sauces, and desserts. Also palm sugar can be added to herbal teas to treat sore throat, colds, and congestion.
Doung Thot Not Coconut Palm Sugar will keep indefinitely in the cupboard.
See recipes using Palm Sugar: Lemongrass Chicken, Green Papaya Salad, Haw Mohk, Pad Thai, Red Curry, Green Curry, Seafood Salad and Sweet Pumpkin
Also see Thai Palm Sugar and Rock Sugar.
Ingredients: 100% Thot not palm sugar. Product of Vietnam.
Availability: Ships in 2-3 business days from Los Angeles, California.
Category: Flour & Sugar
SKU: 3610000478