Pok Pok Cookbook Getting Started Kit

,

Various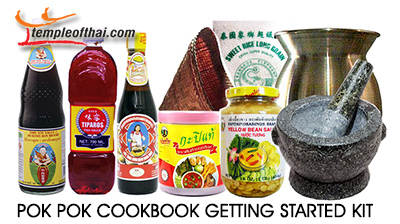 This Ricker-approved Pok Pok Cookbook Getting Started Kit includes the basic Thai ingredients and cookware recommended by Andy to make the recipes in his debut cookbook. We consulted directly with Andy & J.J. Goode to put together all the essential items you'll need to get started in one kit.
Getting Started Kit
If you do not already own a Carbon Steel Wok, you may want to add one to your cart. Additionally you should consider an electric rice cooker to save time and effort when cooking jasmine rice (for example for Andy's Coconut Rice recipe).
---
Reuters News recently asked Andy:
Q: What are the kitchen essentials needed to cook the dishes in your book?
A: At the minimum, you need a mortar and pestle and probably some way of making rice. Those are the two most important things in terms of equipment. In your pantry at the minimum you need some soy sauce, oyster sauce, fish sauce. You need to get some yellow bean sauce. You need some shrimp paste. Other than those things, it's all recipe-dependent.
Source: Reuters World Chefs
---
Availability: Ships in 2-3 business days from Los Angeles, California.
Category: Pok Pok Ingredients, One Click Cooking Kits, Pok Pok Cookware
SKU: 9100000915
Andy Ricker recommends these other great tools and cookware:
At the Least:
A Step Beyond:
For A Complete Pok Pok Kitchen: