Southern Thai Cuisine
Thai food varies from region to region due to geography and history. In the West, most Thai restaurants serve Bangkok-style cuisine, so traveling in Thailand is a culinary adventure of discovery. Southern Thai food is famous in Thailand for being the spiciest of the four regional cuisines.
Typical Southern Foods:
---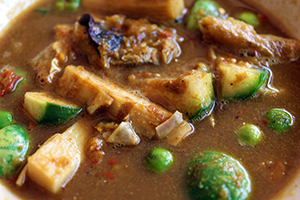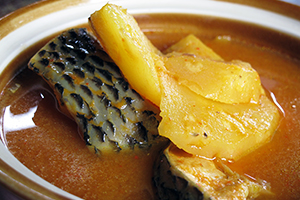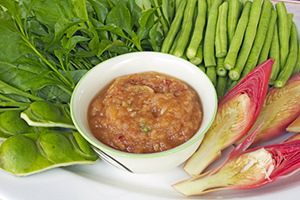 ---
Tropical Paradise
Southern Thailand usually refers to the area south of Bangkok and continuing down into the finger-like Isthmus of Kra, a narrow strip of land bordered on the west by Burma, and widening out down to the border with Malaysia. The Isthmus is climatically and geographically dramatic, getting the longest monsoon in the country and with striking rock formations and cliffs lining its coasts. Rice is not the major crop here, and agriculture instead revolves around huge banana and coconut plantations, and freshly-caught fish from the sea.
The Isthmus was the first point of contact for seagoing people from India, the Middle-East, and the West and it still supports a large Muslim population. One-third of the population of the southern provinces is Muslim, and their culture and food is very different from that of their Thai Buddhist neighbors. Thai Muslims tend to live in fishing communities on the coast, while the Buddhists live on inland farms or in cities. Though the majority of the Muslims in the South speak Thai and consider themselves to be Thai, in the Deep South, bordering Malaysia, they might also be Malay-speaking (yawei dialect) and have less connection to the rest of Thailand.
Hot and Spicy Cuisine
Southern food is the hottest in Thailand, often seasoned with fresh tiny bird's eye chilies (prik kee noo) and its usual tastes are spicy, salty and sour. The curries are colored red, yellow and orange employing both dried and fresh turmeric which is often rubbed into seafood to kill its "fishy" flavor. Southern curries make generous use of coconut milk and coconut oil, often boiled with sour pineapple and tamarind to balance the richness of the coconut milk.
When Central curries, like green and red curry, are prepared in the South, they are usually hotter and use much more shrimp paste (kapi) to intensify their flavor. The thick curries made by Thai Muslims often use ghee or yogurt in place of coconut and add fragrant dried spices like cumin and cardamom to the curry paste, in addition to the usual fresh herbs and spices used in the rest of the region.
Abundant Fish & Seafood
Because the South has a huge coastline, fish and seafood are a major part of everyday diet and are often grilled flavored with chilies and lime, roasted in a pot filled with sea salt, boiled in curries, stirred into salads or simply deep-fried. Outdoor vendors operated by Muslim Thais sell deep-fried fish and chicken, with packets of sticky rice and sweet chili sauce or a ladle full of fish sauce laced with fresh chilies. Numerous seasonal vegetables are available year-round along with tropical fruits like mango and papaya which are served both ripe or unripe.
Image Khoey Khua copyright Suphatthra China/shutterstock.com; all other images and text copyright TempleofThai.com
---
---
Welcome to the Temple of Thai on-line Asian food! Convenient shopping for Thai food - shop for 100's of exotic ingredients like curry, tamarind paste, coconut milk, and fish sauce. Find fresh items including chili peppers, lemon grass and kaffir lime leaf.